HOW WE GET THERE: WHOLE SCHOOL EFFORT
4. Trauma sensitivity requires a whole-school effort.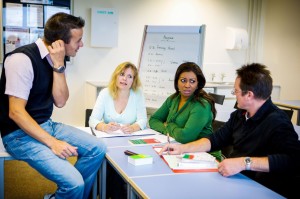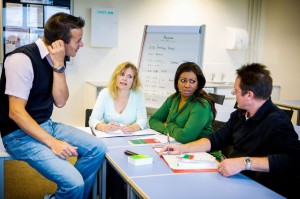 Children need to feel safe and connected to adults and peers everywhere in the school—in the classroom, the cafeteria, the hallway, the special activities, the bus—not just in one program or with one teacher. Moreover, addressing trauma's impact at school requires that adults share responsibility for all children. No one teacher can do it alone, and services, while very important, are most effective when they are coordinated to help students feel safe and supported throughout the school day. This requires the teamwork of everyone in the school. It is important to remember that we will never know all the children who have been affected by traumatic events. The best approach is to create a school-wide environment where all children, including those who have been traumatized, can be successful.
Educators must be empowered to form dynamic, trauma-sensitive learning communities that will enable them to help all children feel safe and supported to learn throughout the school day. This requires a process in which leadership and staff identify priority needs for the students and families in their school and tailor trauma-sensitive solutions to fit their unique culture and infrastructure. Over time, school-wide trauma sensitivity can become fully integrated into the running of the school.
This website—and the two volumes of Helping Traumatized Children Learn—are designed to help schools engage in an ongoing process to create a trauma-sensitive school. Using the Six Attributes of a Trauma-Sensitive School as a vision and the Flexible Framework as a tool, our new publication, Creating and Advocating for Trauma Sensitive Schools, assists educators in developing a whole school trauma-sensitive action plan. The Flexible Framework is organized according to six core school operations: (1) Leadership; (2) Professional development; (3) Access to resources and services; (4) Academic and non-academic strategies; (5) Policies and protocols; and (6) Collaboration with families. The process outlined in Creating and Advocating for Trauma-Sensitive Schools puts the Flexible Framework and the attributes to use to help educators ensure that they are weaving trauma sensitivity throughout all the operational functions of the school.
In the video below Joe Ristuccia talks about a whole school approach and the importance of  community.
Please contact the Trauma and Learning Policy Initiative if your school is interested in becoming trauma sensitive. The section of this website titled, "Creating Trauma-Sensitive Schools" provides materials, an online learning community, and support for those schools engaged in the process set forth in Creating and Advocating for Trauma-Sensitive Schools