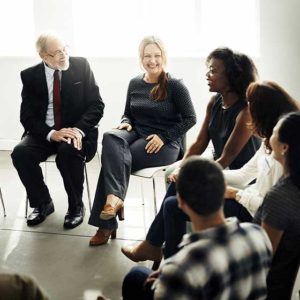 The process of creating a trauma-sensitive school begins when an individual's or small group of staff have a sense of urgency about the need to address an important school priority.  When a significant number of staff determine to address this urgent priority in a trauma-sensitive way the seed for making change can take hold. Often through discussions or through a process of reflection among school staff, an awareness of urgent priorities emerges. For example we have seen the urgency for becoming trauma-sensitive grow from reflections in some communities who are seeing increasing incidence of suicide, challenges around substance use, and the need to increase academic achievement.   We have also watched as schools prioritize better meeting the needs of the most challenging students, changing policies around students receiving harsh disciplinary consequences or frustration over challenges connecting with parents.   Any of these priorities could be a catalyst for becoming trauma-sensitive.
The first step is to clearly articulate why trauma-sensitivity is important in addressing these priorities.  What is different at a trauma-sensitive school is that the shared awareness about trauma's impact on learning becomes the primary motivator for taking action. As this sense of urgency grows, a deeper awareness of the pervasive role trauma plays at school develops as does the need to address it so that students can achieve successful educational outcomes.
In some schools, educators will see trauma sensitivity as the solution to a pressing problem or need.
"We have students for whom we know trauma is very much a part of their lives and there are more that we don't know about; we need to make sure that all staff are consistent across the school". . . Elementary School Teacher
"Doing this [trauma sensitive] work will help us decrease restraints ,office referrals and time out of class and will help increase academic achievement". . .  Assistant Principal
In others, trauma sensitivity will be the way to take what the school is already doing well and ensure that it reaches all the students in the school.
"Our staff is working to identify why students aren't doing better at school and understanding the impact of trauma is essential to our efforts"  . . .  school principal
"We want to have common strategies among all staff that ensure a proactive approach" . . . High SchoolPrincipal
"We have a lot in place and are doing a lot well but we want to increase family engagement"  . . . Middle School Principal
Others might see trauma-sensitivity as a way to integrate initiatives that are already in place.
"We believe the focus on creating a trauma sensitive school will help us tie together all the initiatives we have in place and will help us better support our students" . . . Middle School Leader
"We will be implementing an new PBIS plan this fall and we believe our work to become more trauma sensitive will strengthen this effort" . . . Elementary School Principal
Still other schools may discover the importance of trauma sensitivity as they work to comply with new mandates, such as implementing a new bully prevention plan or a new curriculum focused on social emotional learning.
It is critical that the sense of urgency be shared with the larger school community so that there is a shared commitment to creating the trauma-sensitive community that can work together.  Please review our earlier blog post where we described methods for building shared understanding of the impacts of trauma on learning and growing a coalition in the school through shared learning. Engaging in the effort to connect this deep understanding of trauma's impacts on learning and how becoming more trauma sensitive can create the positive changes desired for the school's students and staff, is key in fueling a strong sense of motivation to begin action planning.
What is the urgency at your school?   In what ways do you think becoming trauma-sensitive could help to address this urgency? How has articulating the urgency in your school helped create needed change?
Please look for our next blog post on action planning coming soon.