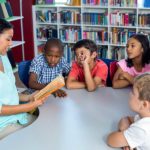 This is the third in our series of blog posts, in which explore key takeaways from TLPI's discussions with trauma-sensitive school leaders as they confront the challenges of yet a fourth pandemic school year. We appreciate their generosity in sharing with us their reflections on how the trauma lens informs their school's response to the many challenges facing students, families, and educators.
In this post, we note how trauma-sensitive school leaders focus on creating learning environments that are safe havens, where students are met "where they are" and supported as such to re-connect, to develop needed skills, and to maintain their health and well-being.
"We are continuing to find that our students (more than ever) need more re-teaching and modeling of expected school-wide behaviors. We will get there with practice and a consistent message from all faculty."                                                                                                                                                                                                                          – Elementary School Principal, School A
"Thankfully, our staff has been committed to supporting all of our students.  They have spent time rebuilding relationships and reestablishing routines–two hallmarks of trauma-sensitive schools. The best thing for our students is to be in school with caring and supportive adults."                                                                                                                                                                                                                                                                                                              –Elementary School Principal, School B
A shared understanding of the impacts of trauma on learning, behavior and relationships informs this focus. Developing a deep understanding of trauma's impact helps educators recognize that learning requires safety, trusting relationships, connection, equity and belonging, adaptability, and working together as a school community. This understanding can guide educators in taking actions that help move them closer to the vision of creating a trauma-sensitive learning environment.
Ever-deepening cycle of trauma-sensitive thinking and practice
As educators' thinking shifts toward trauma-sensitivity, so do their practices. In an earlier research report on TLPI's demonstration schools project, researchers described shifts in thinking as the development of "new mindsets, awareness, knowledge and values with on-going reflection that guided culture change in schools towards trauma-sensitivity."  These new mindsets help set the stage for school staff to not only see things differently, but to approach the question of what to do differently. Shifts in practice are described as "continual conversations, critical reflections and creative implementation of actions, structures, and supportive systems in schools that facilitated culture change toward trauma-sensitivity. (Atallah, et al, 2019 p. 10). Below we describe just a few examples of changes in schools as they move toward trauma-sensitivity.
Reactive response to students' needs         →          Proactive response to students' needs
Focus on individual student support          →          Focus on individual AND school wide supports
Managing behavior through                        →          Building skills in self-regulation and
punitive discipline                                                         fostering relational accountability
Academic outcomes focus                             →          Whole child focus
Siloed and solo efforts to address needs    →          Staff working in collaboration with each other
Taken together, these shifts in thinking and shifts in practice enable educators to engage in a shared approach that supports an ever-deepening cycle of trauma-sensitive thinking and practice that becomes embedded in the school's culture.
Please stay tuned for our next blog post where we share more about how trauma-sensitive educators can come to better understand, what is happening with their students, leading them to create opportunities to develop, with their students, creative solutions to a myriad of challenges.
For more information about creating trauma-sensitive schools, please visit the new Tools-and Resources section of the website, where you can learn more about: