TLPI recently held a virtual legislative briefing where students from Massachusetts' high schools shared with legislators what they need from their schools in this critical time of transition and recovery from the pandemic.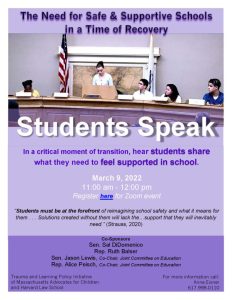 TLPI worked with groups of secondary school students through their afterschool programs to understand and help them communicate what they need in order to do well in school in this time of recovery. The students' testimony addressed four key priorities: learning environment, relationships, equity and genuine learning. The students' comments make a powerful argument for why we need to include their voice in educational decision making.
Learning Environment
Students have shared that they learn best in comfortable and calm classroom environments. These environments can be fun and also foster genuine learning and respectful peer and teacher relationships.
We have something called "demerits" at school. …If you go to class late you get a demerit. If you don't have your ID visible you get a demerit. Demerits, demerits, demerits. Yes, I understand why we have demerits. But why don't we also have positive merits? If you help a classmate with an assignment or volunteer to answer a hard question that should be recognized. …Maybe the deans and principals can give out merits too, instead of only focusing on punishing students. We shouldn't only recognize students when they do something wrong." –Melanie
Relationships
Almost universally, students have shared that they want respectful relationships with their teachers. They have expressed how important it is for their teachers to believe in them and to understand them as whole people, not just as academic learners.
"One way to make schools more safe and supportive is to make sure that teachers take time to learn about students' experiences. Teachers could get better at listening so that students are able to express themselves. …We need to feel heard and understood and that helps us learn. When I feel understood, I know that my future is going to be bright because I can be successful at school." –Theresa
"Miss T is a really welcoming person. She welcomes everyone into her class. She knows the struggles of being an immigrant. She knows what it's like to not understand something and to have to learn something new. … Having a teacher like Miss T on your side who knows what you have been through motivates you to try to do something good." –Frank
Equity
Many students have expressed the importance of having a feeling of fairness at school, a feeling that everyone's voice and experience is valued. They have also shared the need for representation, for seeing a staff and a curriculum that reflects their backgrounds.
"There is an unfortunate number of voices that currently go unheard in my school, especially from students of color and economically disadvantaged students, but these are the voices that are most necessary moving forward, since these voices have historically been ignored and silenced." –Sean
"My school takes students from all across the region. Other parts of the school district had their snow cleared off the sidewalks, but [our town] did not. … Most schools did not have school, but we did. … We were concerned about getting to school safely but did not feel listened to. … In this situation, how would you feel as a [our town] student if the school dismissed concerns about your safety? … I am not disappointed by their final decision not to have a snow day, but I am disappointed that the school missed an opportunity to listen to us and care about our concerns." –Oreoluwa
Genuine Learning
Students feel the focus of their education needs to be concerned less with their test scores and memorizing information. Students are looking for genuine learning—that prioritizes making time for them to approach their teachers, to discuss topics with classmates, and to learn things in a deep way.
"Active learning motivates students. … I've submitted over 200 assignments to Google Classroom since the beginning of the school year. … It feels like some teachers only care about whether we submitted the assignment by 11:59 PM. When I'm in these classrooms, six hours a day, everyone's quiet. All I can hear is the scribbles of the pencils or the tapping of the keyboards. And that's it. It's silent. There's no music. There's no laughter. It's just so dead. And it's like that for 180 days out of the year." –Amayra
"For most of my classes, we are seated in rows with the teacher standing at the front. …However, my photography class is run very differently from my other classes. … You can feel a calming and relaxing energy in the room. … My teacher guides us by giving us the basis of what we need and is there to help us, but doesn't just lecture us. … We have hands-on lessons, we are actively learning. The class feels like a community because students are comfortable and have a chance to communicate with each other." –Trish
We are grateful to the high school students for their brave and powerful testimony and to the legislative co-sponsors of this event, Massachusetts State Sen. Sal DiDomenico and Massachusetts State Rep. Ruth Balser, and co-chairs of the Joint Committee on Education, Massachusetts State Sen. Jason Lewis and Massachusetts State Rep. Alice Peisch.
To learn more, please visit Students-Speak.org