As promised in our last blog, we are pleased to share with you a summary of the Trauma and Learning Policy Initiative (TLPI) Trauma-Sensitive Schools Descriptive Study.
This two-year study by the American Institutes for Research (AIR) provides new evidence that an understanding of trauma sensitivity can lead to changes in practice and new ways of interacting with both students and with fellow staff members. In turn these new ways of thinking and changes in practice can serve as a foundation for school-wide culture change that enables students and their educators to feel safe and supported to learn and be successful.  We have had the joy of observing how these new ways of thinking and changing practices can become a regular part of the way the school is run, leading to learning environments that are characterized by  safety, connectedness, and holistic support for all students.
This reader friendly

snapshot

highlights the

key research findings

and the

implications for policy and practice

.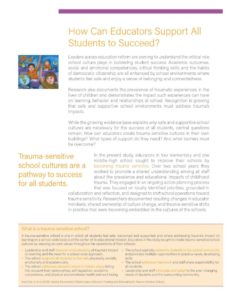 Read the research snapshot here.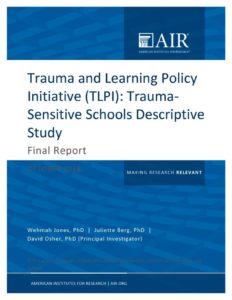 If you are interested in reading the full study, please click here.
We are ever grateful to the five participating schools who engaged in an ongoing action planning process that was focused on locally identified priorities, grounded in collaboration and reflection, and designed to shift school operations toward trauma-sensitivity. A third year of analysis on the sustainability of the changes made by the schools is underway and we look forward to sharing those results with you when they are finalized.
Over the course of the next several weeks through this blog, we will be exploring the key findings from the research report as well as the policy and practice implications. Please stay tuned to our learning community for more information.