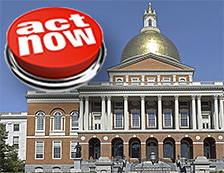 Unfortunately, the Safe and Supportive Schools line item (7061-9612) was significantly decreased in the FY18 House Ways and Means Budget. The proposed budget includes only $200,000, which is a reduction of $200,000 from the amount that was appropriated in last year's budget.
Thankfully, Representative Ruth Balser of Newton is filing a budget amendment to fund this line item at $400,000. This will restore critical funding for the line item.
Including this vital funding for Safe and Supportive Schools in the budget will allow for continued implementation of the provisions of the Safe and Supportive Schools Framework statute that was incorporated into the Act Relative to the Reduction of Gun Violence. This landmark law has laid the groundwork for schools to "foster safe, positive, healthy and inclusive whole school environments" that serve as a foundation for learning for all students.
More specifically, funding this line item (7061-9612) at the $400,000 level will continue the Safe and Supportive Schools Grant Program, as well as provide resources for DESE staffing, statewide conferences, an evaluation of the grant program, and a technology upgrade for the Safe and Supportive Schools Online Self-Assessment Tool.
We are writing with an URGENT request to please email your MA Representative (click on this link to send an email) and ask him or her to co-sponsor Representative Balser's amendment!